What is Aceso Network?
The aim of ACESO is to decrease the expenses of protecting a computer from malware to a minimum, where users will no longer have to pay for software, but for a service instead. Additionally, our solution decentralizes the earning center, and 90% of all earnings are put on a p2p model where a Researcher gets 30% and a Malware analyst – 60% of the computer protection fee.


Why is Aceso Network will be  successful?
We have already successfully entered the cybersecurity world and have more than 1 million users. We strongly believe that  we can expand exponentially and aggressively, we also give completely new technology to the world empowering the community . We could  take it to the next level with the global power of blockchain.
Tired of investing into ideas on whitepapers? We have working product !
As mentioned before – ACESO is based on the MVP – commercially available WiperSoft Anti-malware (wipersoft.com), which is already operating in +100 countries, with +1M users and 950% sales grown in 2017. WiperSoft is a powerful security tool that will help protect users from common computer threats, such as hijackers, adware, etc. It detects infections that may not be detected by other security tools of this kind. And if it is not able to delete a threat, users have the option of contacting the help desk, where they will be provided with a custom fix. While it is relatively new compared to other products in this industry, thousands of users choose WiperSoft to protect their computers every day.
✓ In 2015 we have created Anti-malware software.
✓ In 2016 we launched it for free and acquired 1+ mln., users.
✓ In 2017 we've monetized it and got $300,000 in revenue.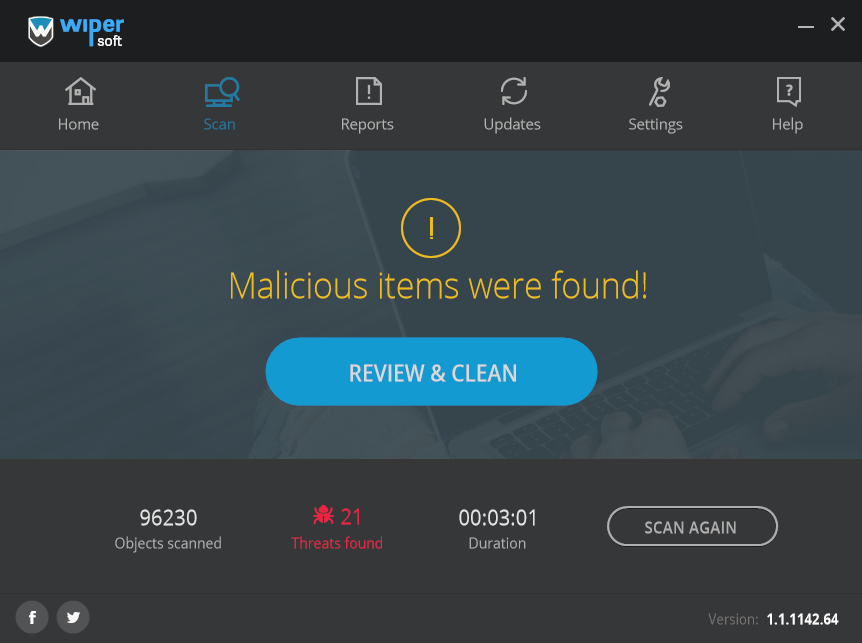 Now we're scaling Anti malware protection using Blockchain with more advanced business model and new Brand name, called ACESO NETWORK.
Problem
More than 1 million new malware threats are released every day (Harrison, Pagliery, 2015). With 1.5 million annual cyber-attacks, online crime is a real threat to anyone on the Internet. That number means there are over 4,000 cyber-attacks daily, 170 attacks every hour, or nearly three attacks every minute (These Cybercrime Statistics, 2015). A global study by the UNOCD (2018) finds that digital theft aects between 1 and 17% of the online population, more than 42% of users were targeted by cyber criminals the previous year.
70% of malware threats goes undetected, what will cost the world $6 trillion annually by 2021, up from $3 trillion in 2015
Currently, getting rid of a computer infection can be quite didifficult and infected users are not always given a solution to their malware problems. Depending on their knowledge in the field, the average user would turn towards security programs for malware removal, paying $40 dollars for just one malware removal, which seems illogical.
Problems the cybersecurity industry is facing:
✓ Emerging Markets: Many new Internet users come from countries with  weak cybersecurity.
✓ Cost too Much: Anti-malware protection costs from $20 per software.
✓ Unused Active Community: Smaller threats are dealt by individual experts on niche forums, with no monetization.
✓ Lack of IT Experts: The cyber crime epidemic is expected to triple the number of open cybersecurity positions to 3.5million over the next five years.)
✓ Limited Coverage: 70% of threats go undetected
Solution
ACESO offers a totally different approach to keeping users  safe. We aim to create a platform where all could participate in cybersecurity and gain something, whether they are knowledgeable in the field or just someone browsing the Internet. The created platform would allow regular users to fix
their malware issues in a much cheaper way, while malware specialists would earn income by providing malware samples/helping others solve their malware problems. It is a win-win situation for everyone.
In simple words, we aim to create a platform which would decrease  expenses for users infected with malware and allow malware researchers/analysts to earn money by helping others solve malware problems.
The aim of ACESO is to decrease the costs of protecting a computer from
malware to a minimum (1$), where users will no longer have to pay for the
software, but for the real Malware Threat removal instead.
Additionally, our solution empowers community to help others solve their
malware problems and earn. Community Researcher gets 30% and a Malware Analyst – 60% of the computer protection fee.
This ACESO mechanism offers:
✓  End User – Clients pay for service, not software;
✓  Researchers  – earn tokens by providing general blocks of information;
✓  Malware analysts –  earn more tokens by identifying malicious blocks.
✓  ACESO Network – ACESO will work a security program, that acts much like an anti-virus. Users will be able to scan their computers with it in order to check whether their computer is infected with malware. Additional AVs will not be necessary as ACESO will have their functionality. Whether the computer is infected with adware or a data-stealing Trojan, the program will notify the user about it.